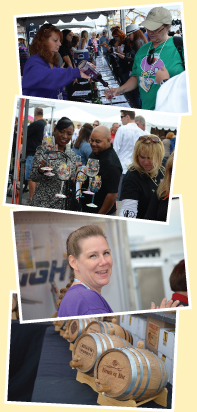 Announcing new weekend for Wine on the Beach 2021
Sept 10 & 11, 2021 at the Inlet parking lot in Ocean City, Maryland
Maryland Wineries, more craft vendors and fine artists, and improved access to the oceanfront festival combine to make the upcoming fall classic the best by far. It promises to be the most enjoyable yet.
"As disappointed as we were not to have a festival in 2020, we are doubly pleased with the improved celebrations we can offer in 2021." Wineries from Maryland, will be bringing a full range of products for festival-goers to sample and purchase -- by the glass, bottle or case.
As attendance continues to grow, organizers have scrambled to keep the lines moving and reduce waiting. An improved festival layout and better admission procedure promises to facilitate entrance and enhance the festival experience. Online ticket sales are offered at a reduced price, advance tickets are available on the festival website.
We are heartened by vaccine approvals and will apply whatever practices are recommended at that time.
General admission includes a souvenir wine glass, samplings of wine, and on-stage entertainment. Perennial favorite Bird Dog and the Road Kings will perform both days, along with other regional bands.
Buy Tickets HERE